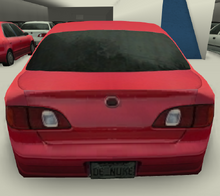 The European-Class Ferry is a ship introduced in an update which transports cars from Ferry Terminals. It is a massive ship which takes a long time to accelerate and turn.
The ship costs 340,000 credits.
The exterior resembles that of an actual ferry. The body is mainly white with blue paint going around the bottom of the ship. You will be able to select two skins for the ferry: RoMarine and Unity Line. The Unity Line skin will replace the "P&O" text with "Unity Line", like the ferry from DSS I. RoMarine is the same thing but the text saying "RoMarine" from DSS II.
Due to the sheer size of the ship, it is extremely hard to make turns, especially in the cramped ports of Wolin and Ronne. In Wolin, when trying to turn the ship for departure to other ports from the Ferry Terminal, it's best to dock at Wolin with the face in, then when departing reverse out of the dock, go forwards a bit so that the back is clear of any walls, then turn and accelerate nose first towards the exit of Wolin.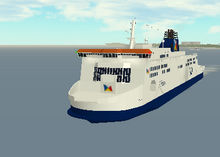 The ferry has a base reward of 6700
Credits
, and the most effective use of this ship is to go from
Santa Cruz
to
Wolin
and back, or Wolin to Santa Cruz and back.
Interior Description
The interior is pretty bland: the lowest deck is the deck for cars, and cars are visible only when transporting from one dock to another dock. Then, by using the ramp from the lowest deck, there are 9 armchairs and a corridor going down each side. These corridors lead to more ramps to go outside, and from there can one access the bridge.